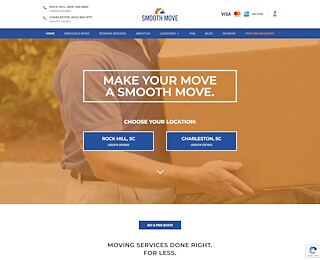 How to Choose the Best Charleston Local Movers For Your Upcoming Relocation:
There are so many moving companies cropping up in the Charleston area, each claiming they have what it takes to get you successfully moved. It's apparent, however, that most of these movers cannot fulfill their claims, since every year, dozens of them go under. It's not from a lack of customers looking for moving services, it's due to the fact that most Charleston local movers simply do not keep their promises to their clients.
At Smooth Move, everything we do is based on our desire to meet your goals during your upcoming move. We provide a wide range of services to customize the process of getting you where you're going for less. Whether you just need a crew to help with the heavy lifting, or you would prefer a full-service move from start to finish, we offer a range of options to meet those needs.
Let's start with packing. Few Charleston local movers are able to compare with our Smooth Move packing and unpacking services Our team is trained to pack everything from everyday items to delicate heirlooms in such a way that they'll arrive at their destination in the same condition they left in. We specialize in artwork packing and crating, heavy object moving, and cumbersome furniture.
If you have your own truck rental already taken care of, we can come in and load and unload for you in an efficient manner. Couple our loading service with our professional packing, and we'll take care of the bulk of your move. Many of our customers would prefer not to manage the transportation, and if that's the case, we'll be happy to arrange for the truck and the transport as well. We can completely customize your move to include any service you want to add on.
If you find yourself stuck between homes for a short period of time, we offer affordable, secure storage options as well. Give us a call or visit our website to find out more about how we can meet your storage needs. Our climate controlled warehouse is professionally managed, fully insured and secured to guarantee condition of your belongings when you're ready for them. Just call us when you're ready for delivery and we'll handle all the details.
If a short-notice move has taken you by surprise, we can arrange for junk removal for items you don't plan to bring along with you. We'll bring your unwanted items to a local donation center and provide you with a receipt for tax purposes. See our FAQ section for additional information about our Charleston local movers or call us at 843-860-9717. We'll happy to provide you with a fast and free moving quote, and answer your questions regarding your move. See our website for free resources, moving tips, storage options, services and rates. Our Smooth Move crew is committed to providing exceptional service to you when you make us your moving team.
Smooth Move – Rock Hill
8033666683
1461 Dave Lyle Blvd, Rock Hill, SC 29730
View Larger Map