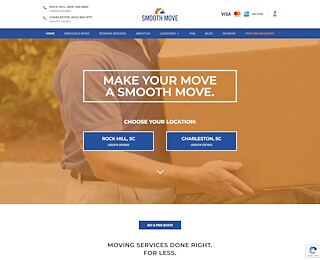 Smooth Move Makes Charleston Moving and Storage Affordable:
When it comes to Charleston moving and storage, no one does it better than our team at Smooth Move. In fact, we are trusted throughout the greater Charleston area for short-notice moves and uncommon moving services most other companies won't touch. That's because we care more about your move than any other movers in the region, and our dedication to you can be seen in everything we do.
We are interested in more than simply making Charleston moving and storage affordable- we want to ensure our customers have options when it comes to how to manage the transportation of their belongings from one location to the next. As such, we take a great deal of pride in offering customized services that start with exceptional customer care when you give us a call.
At Smooth Move, we know your ideal move will look very different from that of someone else. If you're facing a short-notice move, you may be interested in discussing packing services with our team of professionals. Our packing crews have been trained in the particulars of space-saving and protection of your items; they also use the highest quality of packing materials while packing up your belongings. Feel free to call us to manage all or part of your packing.
Transportation is another part of the move we can customize, with labor-only services in the event that you've already secured your truck rental, or full-service loading, transport, and unloading if you prefer. We get a lot of calls from customers who just need some assistance with heavy or bulky furniture or household items they aren't able to manage on their own- and we're proud to be able to provide this service to the community. Give us a call at 843-860-9717 to schedule a crew to come out and help with the heavy lifting. Need us to drive the truck? We can manage that as well. Just put your Charleston moving and storage needs in our hands and rest easy knowing you've hired the most competent company in the Charleston area for your move.
We like to direct our callers to our website for free resources and tools for moving. If you're currently seeking out a company for your move, feel free to stop by our site and check out our moving blog, our FAQ section, our storage options, and our services and rates page. Visiting us online is the best way to find out what sets us apart from the competition. If you'd like a free moving quote, you can request one over the website, or by phone. At Smooth Move, we'll be there for you when you need us, and we guarantee your total satisfaction along the way. If you expect to experience a smooth move, be cautious who you hire to get you where you're going. See our online reviews to find out why we're the best company for the job.
Charleston Moving And Storage
Smooth Move – Rock Hill
8033666683
1461 Dave Lyle Blvd, Rock Hill, SC 29730
View Larger Map