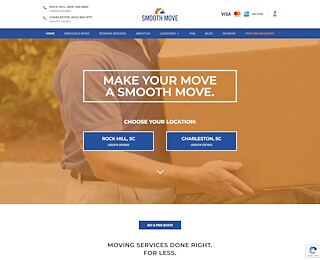 Why Most Charleston Moving Companies Can't Measure Up to Smooth Move:
At Smooth Move, we understand the needs of the community when it comes to moving, and we are dedicated to meeting those needs by offering a wide range of services at affordable prices. We've noticed over the years that more and more start-up moving companies are here today and gone tomorrow. We are interested in meeting the needs of our clients for a long time to come, and as such, we are committed to doing a better job than other movers. We know it starts with exceptional customer service, but it doesn't end there. Our movers are trained to give you their full attention from the moment you first call our office- until you're settled in to your new home.
We take a lot of pride in providing an affordable moving service to the Charleston community, starting with free online quotes with no hidden fees. If you've ever hired a moving team in the past and were handed a huge surprise bill at the end, you can certainly appreciate knowing what the costs will be up front during a move. Our low-cost guarantee is our promise to you that you'll get the best service at the very best price possible. Very few Charleston moving companies can make that promise, but it's one we are committed to standing by.
Being there for our customers when they need us is something else that sets us apart from the competition. When you call our office at 843-860-9717 we'll listen to your needs and assess your goals, then create a moving package for you based upon your budget. Being able to provide customized service to each customer results in a higher level of satisfaction during and after a move.
Our Smooth Move website is set up as a free resource to our customers, so feel free to take advantage of what we have to offer. See our FAQ page for answers to many common questions, or browse our informative blog library for storage solutions, packing tips, helpful strategies before a move, and much more. Subscribe to the Smooth Move blog and we'll send our latest articles right to your email address.
We are proud to offer the Charleston community labor-only services for our customers who prefer to drive their own vehicle. We can also help with full service packing and unpacking in the event that you have other things to manage during your move. Our packing crews are trained to handle your items carefully and responsibly, so you can keep your mind on more important issues while we get your household packed and ready to move.
See our website for junk removal and handling, delivery service, overnight holding and bulky item management and see why we are considered one of the most affordable, reputable Charleston moving companies around. You can request an online quote by filling out the contact form or simply contact our office by phone.
Smooth Move – Rock Hill
8033666683
1461 Dave Lyle Blvd, Rock Hill, SC 29730
View Larger Map