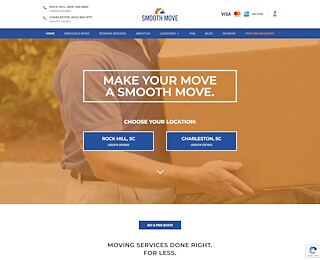 Choose Smooth Move For Affordable Moving in Rock Hill:
If you've ever chosen a moving company to assist with a move and found them to be less than reputable, you can certainly appreciate the value in finding a moving company that strives to deliver excellence from start to finish. At Smooth Move, everything we do is to ensure a stress-free moving experience for our customers. It starts with offering affordable rates on services that are guaranteed- with no hidden fees or costs added in later on- but it doesn't end there.
As a premier company offering low-cost moving in Rock Hill, we believe in doing things right the first time around. That means offering a greater level of satisfaction than other moving companies provide, and keeping our costs at reliably low rates, regardless of what our competition is doing. When you call one of our moving specialists, you can expect to receive a prompt, accurate quote for your upcoming move that is not subject to change.
Local moving around Rock Hill is one of our most popular services that we provide. Our experts offer safe and courteous services that include careful packing if required, loading and unloading of your items, and a guaranteed Smooth Move truck for transportation. All of our trucks are specially equipped to protect your belongings from road hazards and other dangers of relocating them from one place to another. Customers who secure their own transportation arrangements count on us for the heavy lifting, as we offer affordable labor for packing, loading and unloading. Compare the costs of using one of our trucks for transportation and you'll find other moving companies just can't match our prices.
In the event that your move is coming up more quickly than you had anticipated, we offer one of the most flexible packing services in the region. Whether you need a full-packing service or just require some assistance with a few special items, we'll be there when you need us to ensure your items are safely and securely packed and readied for your move. If you need packing supplies, you'll find our supply house offers everything you need at reasonable prices. Feel free to speak with one of our packing experts when you call us at 803-366-MOVE.
Trust us with much more than just your typical moving in Rock Hill. At Smooth Move, we provide last-minute junk removal and handling, labor-only for heavy or cumbersome items, delivery services, overnight holding, bulky item moving service for appliances, pianos, gun safes, etc, and much more. Call us with your specialty needs and we'll create a custom rate for your move that will fit your budget and meet your needs.
Moving day is arriving quickly. Smooth Move's specialists are ready for anything and everything your move might entail. Call us or visit our online resource where you'll find an informative blog library filled with articles, moving tips, and more, our often-used FAQ section, and information about our company and services.
Moving Rock Hill
Smooth Move – Rock Hill
8033666683
1461 Dave Lyle Blvd, Rock Hill, SC 29730
View Larger Map