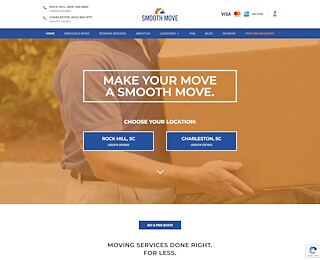 Why Call Smooth Move For Affordable Moving in Charleston? 4 Reasons:
#1: If you're looking for a dependable moving company, there's no better agency to call than Smooth Move. If you've ever hired a less-than-reputable mover and discovered half-way through the move that you made a significant error of judgement, you can certain understand why it's important to spend some time in due diligence regarding the process of researching your prospects. With Smooth Move, you won't be subject to little surprises down the road, like an unexpected additional fee added on to your invoice or broken items when you start unpacking. Smooth Move is dedicated to your complete satisfaction at every point along the way.
#2: When it comes to moving, it's only too easy to find a so-called professional moving company- truth be told, there seems to be one on every corner in the Charleston area. The key in choosing the right agency is in determining their level of professionalism and their commitment to your personal experience. Ask around in your local community to obtain a personal referral or at the very least, type your protective agencies' names into your preferred online directory to see how they measure up with the competition. We invite you to see why the Smooth Move name is trusted as the most reliable moving in Charleston.
#3: At Smooth Move, we take a lot of pride in being able to offer numerous options for your upcoming move. Whether you're just moving around the corner- or to the other side of the country, we offer affordable services designed to meet your needs from start to finish. Our clients trust us for labor only loading and unloading, professional packing and unpacking, jump removal, delivery, overnight holding, bulky item moving and storage options. Our movers are fully committed to providing you with 100% satisfaction when it comes to your move. Feel free to give us a call and tell us how we can meet your needs.
#4: Moving in Charleston has become synonymous with inexperience. Let us change the way you think about working with a moving company by offering you the opportunity to work with our team of professionals who are respectful and aim to cater to your needs. We're highly experienced in moves of all types, from small apartment moves to elaborate corporate relocations. Make us your first point of contact when searching for an honest, reliable moving company.
Our customers love our free online resources that are accessible 24/7, whether you're a current customer or just looking at us for your next move. Check out our FAQ section and our informative blog library for moving tips and packing suggestions. Our helpful movers are just a phone call away if you have questions about your upcoming move. We can provide you with a free moving quote or some helpful advice- we even offer online reviews on our site. Call us or visit online to find out more about our services.
Moving Charleston
Smooth Move – Rock Hill
8033666683
1461 Dave Lyle Blvd, Rock Hill, SC 29730
View Larger Map