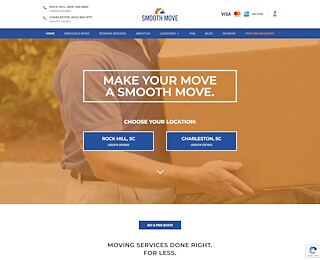 Why Choose Smooth Move For Portable Storage Units For Rent:
At Smooth Move, we're much more than just another local moving company. We strive to offer a range of moving and storage services that meet the needs of our customers, so that when you're looking at moving companies in your area, you'll quickly discover we're the clear choice. Take a closer look at key features regarding our storage units:
Our units have a large capacity with more than 1,000 sq ft with dimensions of 16'L x 8'H x 8'W
Capacity up to 10,000 pounds and 895 cubic feet
Units are 100% waterproof, leak resistant and ventilated for the protection of your goods
Swing doors are lockable
Units are constructed of heavy duty steel roof, frame and base
If you need temporary, short term or long term storage, you'll find our portable storage units for rent are an exceptional option. Use them as portable on-site storage at your own location or have our crew move your unit to our secure facility. You're free to self-load the unit or our professional loading assistance can do the heavy lifting for you.
We believe we offer a better solution to storage than traditional self-storage facilities. Here's why:
You'll save a lot of time and money when you allow us to bring one of our units to your location.
We eliminate the need for a truck and having to unload it at a facility. You'll avoid the loading process as well, since you won't have to have your stored items loaded a second time from the facility to a truck. Consumer experts agree that the less your belongings are handled, the less chance that damage can occur.
On-site storage eliminates the need to travel to a facility where your items are being stored. Labor costs means savings on your end.
We offer the lowest costs in the region on portable storage units for rent. Get a quote over the phone when you call our Rock Hill Location at 803-366-MOVE, or tour Charleston location at 843-860-9717.
We can store your belongings at our secure, climate-controlled facility for as long as you wish. Just give us a call when you're ready to have them delivered to your new location and we'll have them there on time and ready to be unloaded- which we can also take care of for you.
Feel free to use the resources on our website to make your upcoming move stress and hassle-free. Enjoy our engaging blog library where you'll find a wealth of information designed to be of value to our website visitors. Check out our FAQ section to find answers to many commonly asked questions. Find out more about our company by clicking the 'About Us' link, or visit the 'Services & Rates' page to find out how we can help make your upcoming move a success. We're here for you when you need us- call to secure a quote.
Smooth Move – Rock Hill
8033666683
1461 Dave Lyle Blvd, Rock Hill, SC 29730
View Larger Map