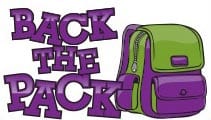 Smooth Move isn't just a company you call when you need local moving services in the Rock Hill, SC and Charleston, SC areas. It's a company that truly takes pride in serving the community. When we're not helping people with their local and long distance moves or our climate- and temperature-controlled mobile moving containers, you'll find us contributing in a variety of ways to make our communities better places to live. Here are just a few of the many organizations we support across South Carolina:
Back the Pack: Back the Pack is an initiative of the Rock Hill Schools Education Foundation. The program distributes food to students who may not have anything to eat over the weekend. Smooth Move is proud to be a corporate sponsor of Back the Pack.
Come-See-Me Festival: Come-See-Me is South Carolina's largest all-volunteer festival. Smooth Move is an Innovator Sponsor of Come-See-Me.
ChristmasVille: Each December, Old Town Rock Hill becomes a glittering holiday village. Smooth Move is a Signature Sponsor of ChristmasVille.
Other nonprofit and civic organizations we support include the Boys & Girls Club of York County, The Haven Men's Shelter, ROAR Sports, and the City of Rock Hill Youth Sports.
We're also involved in organizations that build a better environment for business in our state. For our efforts, we were named Small Business of the Year by the York County Regional Chamber of Commerce. Co-owner and operator Reid Hovis received another honor when the Chamber named him Small Business Person of the Year. We were also recognized as a "Hometown Hero" by CN2 News in Rock Hill.
We're honored to receive these accolades, but that's not why we do what we do. We genuinely care about the people we serve in Charleston, Rock Hill, and surrounding communities of South Carolina. We hope you'll trust us to take care of you, too. Get a free quote for any of our moving and storage services today!